Many people who have chronic pain, such as fibromyalgia or postsurgical pain, use portable TENS devices at home or work. What should you consider if you want to use a TENS device to treat your chronic pain?
Electrotherapy for Chronic Pain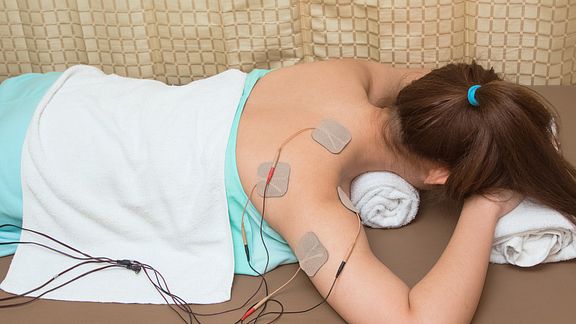 Save
1. Choose a device that makes sense for you and your lifestyle
TENS stands for transcutaneous electrical nerve stimulation, and all portable TENS devices deliver low-voltage, non-painful electrical pulses to the skin. Exactly how those electrical pulses are delivered to the skin can vary according to the device.
Read more about Transcutaneous Electrical Nerve Stimulators (TENS) on Spine-health.com
For example, some products, like wearable socks and gloves, are made out of a conductive material and deliver the mild pulses throughout. Others products use elasticized bands or pads containing electrodes that must be placed against the skin. Some pads may be sticky and therefore cause discomfort when removing from a hairy area.
Most products can be worn while you're moving about your day, but wires and elasticized bands may get in the way or make moving a little less comfortable. Will you be sitting in a chair or actively moving throughout the treatment? Choose the product that's best for your circumstances.
2. Place electrodes in the correct places
While some TENS devices can be worn as clothing, many TENS devices require you to place the electrodes in specific places on your skin. Typically the electrodes are located inside an elasticized band or inside pads that adhere to the skin. Follow the device instructions when placing the electrodes. If you find that a TENS treatment session does not sufficiently reduce pain, experiment with the electrode placement a little bit, moving them to a slightly new position.
See The Ins and Outs of Wearable Pain Relief
Applying electrodes to hard-to-reach places, such as your back, may require help from another person.
3. Understand TENS might not work for you
Many individual studies suggest TENS is helpful in treating a variety of types of pain, including but not limited to neck pain and stiffness,1 diabetic nerve pain,2 pelvic/abdominal pain,3 fibromyalgia pain,4 post-surgical pain following rotator cuff surgery,5 and eye pain associated with dry eye.6
Not all people diagnosed with these conditions will experience pain relief or pain reduction using TENS. In addition, these studies tend to be relatively small, and more high-quality research is needed regarding using TENS to treat specific painful conditions. But in general, TENS seems to offer some relief to people who have chronic pain, so portable TENS devices may be worth a try.
See Understanding Chronic Pain: The Gate Control Theory
Food and Drug Administration regulations
Medical devices such as wearable electrotherapy are regulated differently from medications. The U.S. Food and Drug Administration (the FDA):
Requires that medical devices be safe to use, but
Does not test medical devices to be sure they are effective in treating pain or other symptoms, as it does with medications.
Research suggests that, in general, electrotherapy can reduce chronic pain symptoms. However, research on the effectiveness of a specific device for a specific condition may be limited or nonexistent.
Learn more:
Applying Gate Control Theory to Pain Relief
Treating Chronic Pain with Acupuncture
References
1.

Escortell-mayor E, Riesgo-fuertes R, Garrido-elustondo S, et al. Primary care randomized clinical trial: manual therapy effectiveness in comparison with TENS in patients with neck pain. Man Ther. 2011;16(1):66-73.

2.

Jin DM, Yun X, Deng-Feng G, Tie-bin Y. Effect of transcutaneous electrical nerve stimulation on symptomatic diabetic peripheral neuropathy: a meta-analysis of randomized controlled trials. Diabetes Res Clin Pract, 2010;89:10-15, as cited in AAN Summary of Evidence-based Guideline for patients and their families: Therapies for Treating Diabetic Nerve Pain. American Academy of Neurology, 2011.

3.

Harvey MP, Watier A, Dufort rouleau É, Léonard G. Non-invasive stimulation techniques to relieve abdominal/pelvic pain: Is more always better?. World J Gastroenterol. 2017;23(20):3758-3760.

4.

Dailey DL, Rakel BA, Vance CG, et al. Transcutaneous electrical nerve stimulation reduces pain, fatigue, and hyperalgesia while restoring central inhibition in primary fibromyalgia. Pain. 2013;154(11):2554-62.

5.

Mahure SA, Rokito AS, Kwon YW. Transcutaneous electrical nerve stimulation for postoperative pain relief after arthroscopic rotator cuff repair: a prospective double-blinded randomized trial. J Shoulder Elbow Surg. 2017;26(9):1508-1513.

6.

Sivanesan E, Levitt RC, Sarantopoulos CD, Patin D, Galor A. Noninvasive Electrical Stimulation for the Treatment of Chronic Ocular Pain and Photophobia. Neuromodulation. 2017