Do your friends and family struggle to choose a holiday gift you can use? Maybe you're still a little wary about the whole season of giving after last year's scented candle gift triggered a migraine.
See Tension, Migraine, and Cluster Headaches
Treating Chronic Pain with Acupuncture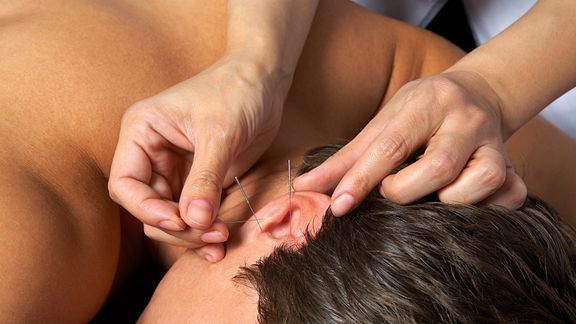 Save
Drop some hints
To put that all behind you, share this list of 9 gifts designed to make life with chronic pain a little easier:
Heated clothing or blankets. If cold weather aggravates your pain, stay cozy with battery-warmed clothing. Small batteries are used in everything from scarves to hats, mittens, socks, and coats. Search online for "heated clothing" or take a look at a sporting goods or outdoor retailer.

Read more about How Cooler Weather Affects Chronic Pain on Spine-health.com

Create a mini-spa. Let a paraffin wax spa melt away your pain and stiffness. Wax warmers made for home use come with a tub about the size of a crockpot. Once the wax melts, you dip a hand, elbow, or foot into the wax. The soothing feeling lingers as the wax solidifies and is peeled off to use again.
Be a softy. Chronic pain may mean you spend a lot of time in slippers. Ask for some with extra support and plenty of memory foam to minimize foot pain.
Go ergonomic. Make those hours on the computer as comfortable you can with an ergonomic keyboard, mouse, or desk chair.

Read more about Ergonomics of the Office and Workplace on Spine-health.com.

Crank up the comfort with gel. Sitting can be uncomfortable, but sometimes you have no choice. A gel cushion can make all the difference in the car, at work, or at home. Compact versions are often sold with automotive accessories, and a variety of options are available online.
Get the gift of time. If you've got small children at home, suggest a custom-made gift certificate offering to take the kids hiking or ice-skating. If you're on your own, ask for help with a home repair or hanging holiday lights.
Have a seat. Holiday events and shopping won't be so exhausting if you have a seat with you. If you use a cane, ask for the kind that converts to a small seat with a tripod base. And if your gift-giver is especially generous, ask for a walker with a padded seat.
Be practical. Compression gloves and socks can ease the pain of fibromyalgia, osteoarthritis, and rheumatoid arthritis, and also add a welcome layer of warmth. Usually made of washable cotton, some styles include rubberized grips for driving and other activities.

Read more about fibromyalgia, osteoarthritis, and rheumatoid arthritis on Arthritis-health.com.

Keep your options open. You won't have to sit at an uncomfortable desk to stay in touch online when you have a lightweight lap desk. A lap desk can also come in handy on days when you're more comfortable in bed.
And while it may be top of mind to you, a friendly reminder that you're sensitive to certain fabrics or scented products can't hurt.
Learn more:
Treating Chronic Pain with Acupuncture