Do your pain medications leave you too foggy-headed for work or social situations? If so, on-the-go treatments that work directly at the site of your pain may be worth checking out.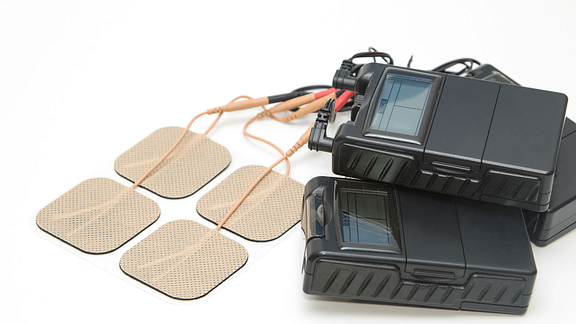 Save
Topical treatments widely available
Topical creams, gels, patches, and sprays can help ease various types of chronic pain, such as neuropathic pain, arthritis, back pain, and neck pain. You'll find plenty of nonprescription choices at your nearest drugstore or discount retailer, and prescription topicals are also available.
Read more about Medications for Back Pain and Neck Pain on Spine-health.com
Wearable pain relief devices
If topical treatments irritate your skin or aren't taming your pain, there's another kind of treatment you may want to check out.
A growing number of manufacturers are touting wearable, medication-free devices that use mild electrical stimulation—also called electrotherapy—to treat pain from an array of conditions. The most common kind of electrotherapy is TENS—transcutaneous electrical nerve stimulation.
Read more about Transcutaneous Electrical Nerve Stimulators (TENS) on Spine-health.com
TENS devices typically rely on small, battery-powered electrodes. The therapy may cause a tingling sensation, but no pain. Straps, sticky gel pads, and adhesives keep these lightweight devices in place. The intensity and length of treatment can usually be dialed up or down on a hand-held controller.
You can pick one up at your local drugstore for less than $30, or check online for more elaborate systems costing up to hundreds of dollars.
Why to consider wearable therapy
There are several reasons wearable therapy might be helpful, including:
Stealthy pain relief. Most wearable devices are either unobtrusive or invisible under your clothes, so you don't need to answer questions from strangers or co-workers about your medical situation.
Satisfaction may be guaranteed. Several units—especially those with hefty price tags—come with a money-back guarantee if you aren't happy with the results.
No prescription is needed. Most wearable products are sold without a prescription at pharmacies, general merchandise stores, and online retailers.
No medication is needed. You don't have to worry about drug interactions or medication side effects.
Fast relief. The therapy takes effect quickly, often within about 15 minutes.
Read more about How Electrotherapy Works to Ease Pain on Spine-health.com
Check online comments and reviews about wearable devices to learn which features of various wearable devices are likely to be most useful and whether the devices perform as advertised.
Why to be wary
Wearable pain relief devices have their drawbacks as well, such as:
Costs can add up. Electrotherapy treatment isn't usually covered by insurance, and replacement parts can be pricey. Replacement gel pads can cost up to $30 a month.
Location, location, location. Think about where you hurt and whether you'll be able to reach the site to attach the sticky pads if you don't have a family member or friend who can help.
Effectiveness varies. Some people rave about the treatment, while others feel little or no pain relief. If you know someone who has an electrotherapy device, ask if you can try it out before buying your own.
Devices can slip and fall. Some of the devices can fall off, especially if you sweat a lot. If you have a physically active job, look closely at how the device will be attached.
Skin may become irritated. The therapy can cause irritation or a rash where treatment is applied, especially if you have sensitive skin.
Check with the doctor before starting a new topical or electrotherapy treatment. Electrotherapy may not be recommended if you're pregnant or have a pacemaker.
Learn more:
Understanding Chronic Pain: The Gate Control Theory