The field of pain management is relatively new, and pain specialists' credentials can vary. With so many doctors calling themselves "pain specialists," it can be difficult to decide who fits best for your specific health situation.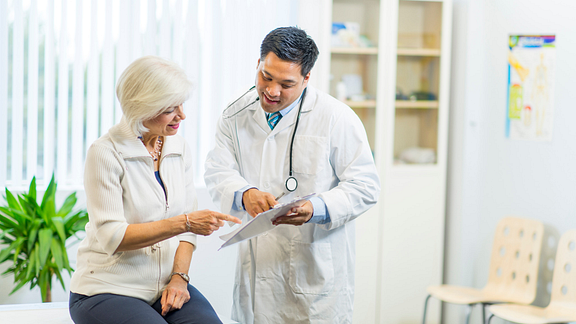 Save
Here are a few things to keep in mind when considering a pain management specialist.
See Choosing and Meeting with a Pain Management Specialist
Education, residency and fellowship
All pain management specialists are doctors, but not all doctors are pain management specialists. A doctor will have earned a medical (MD) or osteopathic (DO) degree from an accredited institution and passed the United States Medical Licensing Exam (USML).
Many doctors will then choose to enter a residency program, which is additional training in a specific field of medicine. A pain management specialist will often choose one of the following specialties:
Physical medicine and rehabilitation (physiatrist)
Anesthesiology
Psychiatry and neurology
Radiology
Family medicine
Emergency medicine
Following residency a doctor may choose to take the American Board of Medical Specialties (AMBS) board certification exam in his or her given area of expertise. These doctors can complete additional training in the field of pain—called a fellowship— and take the AMBS subspecialty certification exam in pain medicine. Doctors who have this subspecialty certification are considered pain specialists.
A doctor can also be certified by the American Board of Pain Medicine (ABPM). This organization is separate from the American Board of Medical Specialties, and its certification is not recognized in all states. Certification requirements include but are not limited to successful completion of an accredited residency training in pain medicine.
Most pain management specialists will provide these credentials online or in their office.
Medical specialty: does it matter?
A doctor's primary specialty may indicate what conditions they are familiar with and how they treat pain.
Back and neck pain. Because back and neck pain are often associated with problems in the musculoskeletal system, a pain management specialist with a background in physical medicine and rehabilitation is likely to be familiar with the causes and available treatments. A pain specialist with a different background can also treat back and neck pain.
Headache and migraine. Pain management specialist who diagnose and treat headaches and migraines may have a background in neurology. They have specialty training in the nervous system, which includes the brain, spinal cord, and nerves. Other pain specialists that commonly diagnose and treat migraines may have a background in anesthesiology, physiatry, or family medicine.
Neuropathic pain. As the name suggests, neuropathic pain stems from the nervous system. A pain management specialist with a neurology background is likely to be familiar and comfortable treating and diagnosing a range of conditions related to nerve pain; however, some pain specialists without this background can also treat neuropathic pain.
See Pain Management Specialists' Role in Patient Care
A doctor's background may also determine what treatment methods they offer. For example:
An anesthesiologist is likely to have experience treating patients with injections, such as epidural steroid injections.
A physiatrist might use a range of non-surgical therapies, such as biofeedback or exercise.
A radiologist is most likely to diagnose painful conditions through medical imaging, such as magnetic resonance imaging (MRI) or computed tomography (CT). A pain management specialist with a background in radiology may or may not be involved in treatment once a diagnosis has been made.
Pain management treatments are evolving at a fast pace and change often. Moreover, some doctors may have a long professional history of pain management and not have special certification.
Learn more: