First used as a treatment in traditional Eastern medicine, acupuncture has become more widely accepted in the United States. Research has shown acupuncture can be used to successfully treat back, neck, and shoulder pain.1
Acupuncture treatment uses thin, sterile, non-toxic needles that are inserted into the skin in specific locations on the body, depending on the painful condition.
Treating Chronic Pain with Acupuncture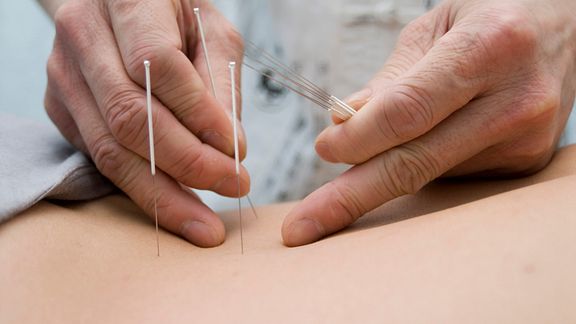 Save
Acupuncture is not generally painful. People usually report feeling relaxed after a session; others describe a tingling feeling. It is believed that acupuncture works by:
Acupuncture may also help with anxiety and depression,3 both of which are often associated with chronic pain.
An acupuncture practitioner, called an acupuncturist, can develop a treatment plan depending on the specific condition (if known). The practitioner may go through a patient history and full body examination. Here are some things to expect at the first acupuncture appointment:
Personal Questions. Be prepared to answer questions about health and lifestyle, including questions about sleep, nutrition, sexual health, and bowel movements.
Tongue and pulse examination. An acupuncturist may observe the tongue shape, color, and coating. Pulse strength and quality can help determine the appropriate treatment plan.
Longer appointment length. Acupuncture generally takes longer than standard medical appointments.
See Acupuncture: What to Expect
Acupuncture appointments can also include other eastern medicine healing techniques, such as herbal remedies or exercises. This will depend on what methods the practitioner is familiar with and comfortable performing. The number of treatments needed and the level of pain relief varies with the individual.
Acupuncture has few side effects, however, some people have reported bruising and soreness at the acupuncture points after a session. While the risks are low, there are some people who may not be candidates for acupuncture, including:
People who have bleeding disorders. Blood thinners and blood disorders may increase the risk for bleeding or bruising from the needles.
Women who are pregnant. Acupuncture is believed to stimulate labor and could result in premature delivery.
People who have pacemakers. Some acupuncture technicians use needles with mild electrical pulses that can interfere with a pacemaker.
Check with a doctor before beginning any acupuncture treatments.
A primary care doctor can often be a good resource for finding a reliable, licensed acupuncture practitioner. Other resources include state licensing boards and the National Certification Commission for Acupuncture and Oriental Medicine (NCCAOM).
The price of an acupuncture session will vary and it may be covered by a health plan. If not, some areas offer community, or group acupuncture that lessens the cost.
See What to Consider with Acupuncture